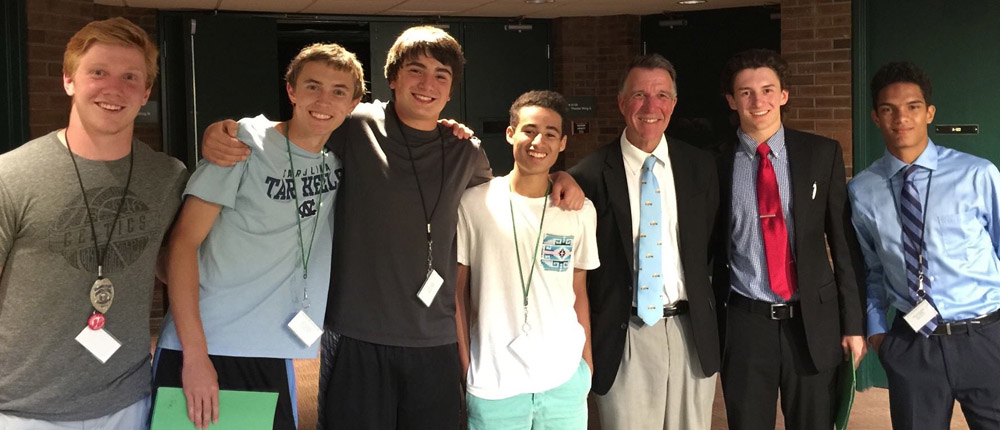 Green Mountain Boys State

Green Mountain Boys' State is a leadership laboratory for rising high school senior boys. The central focus of the program is Vermont town, county, and state government, and its organization, policies and procedures. Delegates are elected and appointed to offices within the Legislative, Executive, and Judicial Branches of government. They work on issues relating to Vermont, and debate and discuss these issues during the Thursday session at the State House in Montpelier, VT on Thursday.

Staff
The staff is comprised of teachers, administrators, business owners, lawyers, legislators, and past delegates. All are volunteers who donate a week of their time to work with our delegates.

Volunteer Resource Persons
Throughout the week, many of Vermont's elected and appointed officials supplement the members of the staff. These professionals include town managers, town listers, law enforcement officers, local development authorities, staff from the Vermont League of Cities & Towns, representatives from the Vermont School Boards Association, members of the House of Representatives and Senate, the Governor, Lt. Governor, Secretary of State, State Treasurer, Attorney General, and Auditor of Accounts.

Activities
The Band is one of the proud traditions at Boys' State. Other activities include soccer, basketball, volleyball, and swimming. Delegates organize tennis, running, Ultimate Frisbee and other activities to take advantage of the facilities at Lyndon State. Lyndon State generously makes their campus and facilities available to the delegates throughout the week.

Scholarships and Awards
Scholarships are awarded to Lyndon State College, Johnson State College, Castleton State College, and Norwich University. Boys' State provides two recommendations for scholarship to Middlebury College. The Samsung Corporation awards a scholarship of $1,000 to a direct descendant of a US wartime veteran. The American Legion awards three cash scholarships in honor of past directors Richard Curtiss, Harry Loyzelle, and Norm Messier. If you are considering making application to one of the Service Academies, Boys' State is a must!

Boys' Nation Program
Two delegates and two alternates will be selected to represent Vermont at the Boys' Nation Program in Washington DC in late July.